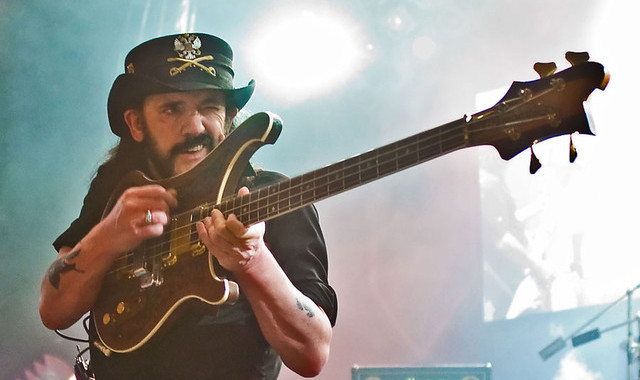 Whether or not you're into MOTÖRHEAD you know who they are. And even if you can't name a single tune you probably know who Lemmy is. While one of the planets most iconic voices in metal was silenced Monday December 28th 2015 the legend will live on and god willing his example will as well. Admittedly I am not the biggest MOTÖRHEAD fan. I am however a massive fan of who they are and what they do.
While it's very well know that Lemmy fueled most of his life with a buffet of various chemicals, that (believe it or not) is not the mark I am hoping he left on the music scene. In my eyes MOTÖRHEAD was about Rock N' Roll at its very core. They were the working mans group. Never really had commercial success but still managed to become a household name, you sure didn't see many pop tours headlined by MOTÖRHEAD. Yet they were always there, always going to be in your area in the near future. And I think that is going to be the toughest part, them not being there. While they didn't really have commercial success, they still managed to obtain iconic status and in my opinion that could only be attributed to their hard-core work ethic.
This was a group of guys that played Rock N' Roll because that was simply what they were put on this planet to do. Not to get chicks, or make money. They wanted to play in a band, embrace the excesses that came with it, push themselves to the edge and tell the world to fuck off. That's really what Rock N' Roll was rooted in anyway telling everyone to fuck off. Think back to the Beatles, or Elvis they were protested and perceived as dirty. MOTÖRHEAD to me is that kind of iconic, they were the pillar of heavy metal and godfathers that kids of today will hopefully look up to. They type of band your parents didn't want you listening to but unknowingly could teach a lot of musicians a lesson. The lesson of just grabbing your buddies, playing unapologetically loud, and unapologetically saying uncomfortable things, touring until you've out run your transportation, equipment, and eventually your body. That's the lesson that I hope some kid somewhere can see and capitalize on. It's worth noting that while they were the bad guys of rock, you almost never heard a negative word about them. And with the passing of Lemmy musicians came out of the wood work to express their sorrow. Lemmy was God.
Lemmy and MOTÖRHEAD were honest at least in the spirit of music. You didn't see them change their image, sound attitude, habits. They just did what they did. And you can't say that for really much of anyone anymore. Everyone has an agenda be it financial or for fame. You didn't see MOTÖRHEAD doing press tours, product placement. In part I'm certain because while that sort of thing didn't fit their personality it also didn't fit in much of mainstream society. But there is a certain type of beauty in that type of honesty. They always seemed to look like they played music because that's what was hard-coded in their DNA. I love that.
Lemmy, whose health had been rapidly deteriorating had just been diagnosed with terminal cancer a couple of days before his passing. Lemmy sought treatment after his birthday party at the Whisky a GO GO in Los Angeles on December 13th. He was initially released from the hospital with a clear bill of health but they decided to continue testing due to irregular speech patterns. Having thought he had suffered a minor stroke they found "an extremely aggressive cancer" in his brain and neck which lead to the terminal diagnosis.
Todd Singerman tells Sky News.
"Nobody had any idea," Singerman adds. "We just learned Saturday, two days ago (sic), that he even had cancer and the doctor told him he had between two to six months to live. He goes (dies) today as I was making calls to (band mates) Phil and Mikkey telling them to come on out so they could have a last goodbye while he was still upbeat and everything. He was feeling mighty low… He wasn't expected to die like that … That (cancer) was the last thing we thought he would ever have. When you think about it he has been to every doctor and hospital around the world and nobody caught that… That comes as a massive shock."
"He took it (the news) better than all of us," Singerman tells Rolling Stone. "His only comment was, 'Oh, only two months, huh?' The doctor goes, 'Yeah, Lem, I don't want to bullshit you. It's bad, and there's nothing anyone can do. I would be lying to you if I told you there was a chance.'" Lemmy was also in favor of telling fans what was going on, even though the news was obviously sad. Unfortunately, Lemmy passed before that press release could be sent.
Memorial services for iconic MOTÖRHEAD frontman Ian "Lemmy" Kilmister will be held on Saturday, January 9 from 2:00 p.m. to 2:00 a.m. at the Rainbow Bar & Grill in West Hollywood, California.
RIP Lemmy and MOTÖRHEAD.