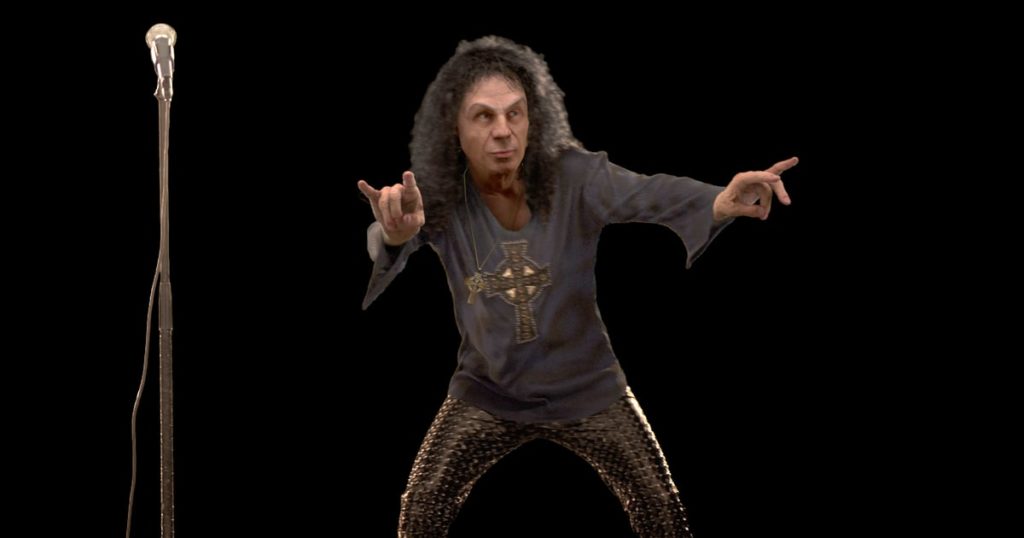 Some footage started to float around from the DIO Returns tour.  For those not familiar it's Ronnie James DIO in hologram form playing with his DIO bandmates.  The tour started December 6th at Matrix in Bochum, Germany.  From other reports the set-list featured "Rainbow In The Dark", "We Rock", "Neon Nights", "King Of Rock And Roll, "Man On The Silver Mountain", Heaven and Hell", "Holy Diver" and more.
The DIO Returns tour features Ronnie's actual live vocals with the DIO band playing backing.  The band consisting of Craig Goldy on guitar, Simon Wright on drums, Scott Warren on keyboards and Bjorn Englen on bass.   Tim "Ripper" Owens (Judas Priest) will also perform as well as singer Oni Logan (Lynch Mob) on some dates.
The hologram debuted at the last year's Wachek Open Air festival in Germany surprising many in attendance.
Reaction to this type of technology has been mixed.  Some feel we should allow artists to rest in peace while other's look at this as a great opportunity to see a live show with the essence of the original artist.  I think I may be more in the latter group.  I actually quite enjoy the thought of being able to catch a Jimi Hendrix show in person, or see John Bonham, Freddie Mercury, or maybe even Prince.  Granted I don't get to see the actual artist but it's as close as I would be able to get to seeing an artist I appreciate that I can't see at all now.  It's also a great way to expose the younger generation to the artists we grew up with.  In the case of DIO, having not only his wife's blessing and support but also having his former band mates actually playing live backing the hologram, I see no problem with it.
Additionally, breaking up the set with Tim 'Ripper' Owens and Oni Logan in my opinion makes this an event.  And let's be real, we're really going to a "Show" Right??  We want to be entertained. I look at something like this as entertainment rather than trying to replace Ronnie.  Either way you look at it, should this technology prove to sell seats and be profitable, it's going to be around for a while.  And if you're a pop or hip hop fan, we'll you're accustom to lead vocals being prerecorded anyway so those people are half way there.
Below I have the footage linked from the DIO Returns tour. I've also attached a link to an Eddie Trunk interview with Jeff Pezzuti and Wendy Dio.  Jeff Pezzuti is the creator of Eyellusion, the company that's creating this technology for this tour.  We posted a story earlier in the year about Eyellusion starting work on a Zappa hologram tour.  (One I would probably go see)  It's an interesting story so check that out below as well.
Tell me your thoughts.  Is it cool or should we leave well enough alone?