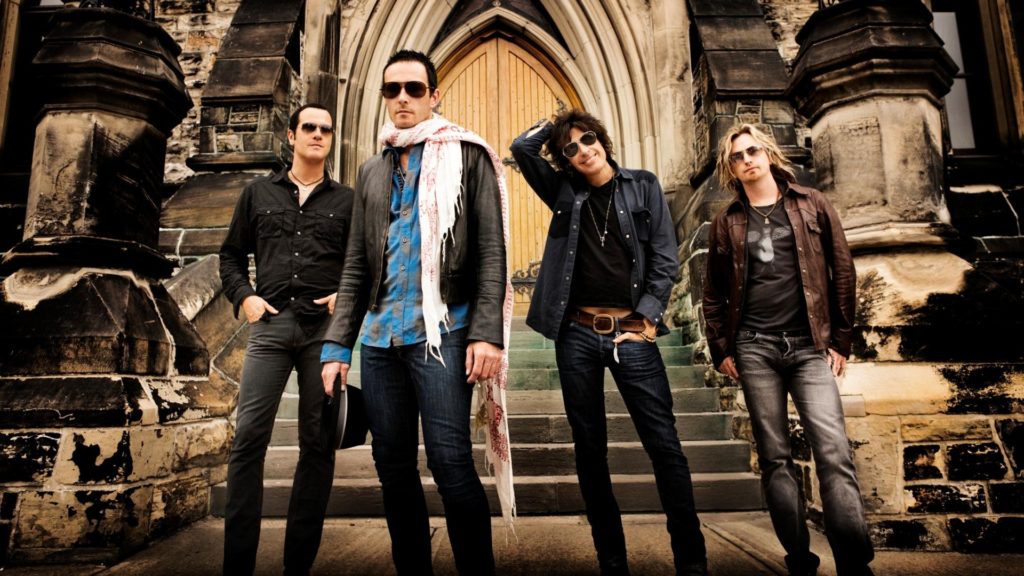 From Blabbermouth:
A previously unreleased STONE TEMPLE PILOTS song called "Only Dying", taken from the upcoming 25th-anniversary expanded reissue of the band's debut album, "Core", can be heard using the SoundCloud widget below. The track was demoed early in STP's career and the band had planned to re-record in 1994 for "The Crow" soundtrack. The idea was later scrapped after the star of the film, Brandon Lee, was killed during production.
"That song was a little bit of a different direction for us," bassist Robert DeLeo tells Rolling Stone. "It was based more off jazz-type chordings. As a songwriter, I wanted to spark people into different directions."
"I remember Scott [Weiland, vocals] really wanted to redo the song and quite honestly, the guitar tone we chose on that … I don't know what I was thinking," guitarist Dean DeLeo says. "Maybe I was listening to too much Robert Smith or something. It's a song where I don't think we reached our full potential as songwriters quite yet. But honestly, it really is a beautiful song."
"We wrote it maybe nine months after Dean joined the band, and we recorded it in a studio in north Hollywood before we got signed," drummer Eric Kretz says. "It's cool to hear it now. You can hear all the STP elements in there. You could tell it needed to be reworked a little bit, but you can really hear Scott's voice taking on its character and the band delving into the sound of the guitar, the special effects and everything. It's a great early indicator of where the band was heading. It was trying to dig into our emotions."
STONE TEMPLE PILOTS roared on to the scene 25 years ago with "Core". A breakout success, the album peaked at #3 on the Billboard charts, dominated radio waves with hits like "Sex Type Thing" and "Wicked Garden", and has been certified eight times platinum by the RIAA. The band also took home the 1994 Grammy Award for "Best Hard Rock Performance" for their smash single "Plush".
To mark the legendary album's silver anniversary, Rhino will release two versions on September 29, which is 25 years to the day of the album's original debut. The first is the "Core: Super Deluxe Edition" ($79.98), which includes four CDs featuring a newly remastered version of the original album, plus more than two hours of unreleased demos and live performances, including the band's performance on "MTV Unplugged". Also included is the original album on vinyl and a DVD that contains a 5.1 Surround Sound Mix of the album along with videos for the album's four singles. The set, limited to 15,000 copies worldwide, comes packaged in a richly detailed hardcover book (12 x 12) with rare and unseen photographs. The music from the Super Deluxe version will also be available via digital download and streaming services.
Fans can pre-order a limited edition bundle of the "Core: Super Deluxe Editon" at www.stonetemplepilots.com which includes a bonus replica 7-inch vinyl single of "Plush" that was originally released in the U.K. in 1993. This exclusive bundle is limited to 1,000 copies.
Also available on the same day is a 2-CD "Core: Deluxe Version" ($19.98) containing a newly remastered version of the original album expanded with rare b-sides and previously unreleased demos. A single disc remaster of the original album will be available as well.
STONE TEMPLE PILOTS (guitarist Dean DeLeo, bassist Robert DeLeo, drummer Eric Kretz, and vocalist Scott Weiland) debuted with "Core" in the fall of 1992 and by the following summer were one of the biggest rock bands on the scene, powered by exhilarating live shows and a string of now-classic songs from the album, remastered here for the very first time.
Nearly all of the music on the second disc of both versions is making its commercial debut. Of the nine demos included, four were recorded between 1987 and 1990 when the band was known as MIGHTY JOE YOUNG. The disc also includes five unreleased demos from their original Atlantic sessions and concludes with four b-sides, including the jazzy "Swing Type Version" of "Sex Type Thing", as well as two acoustic versions of "Plush" — the "Acoustic Type Version" recorded with the full band and the rarely heard "first take" that was recorded by Weiland and Dean DeLeo for MTV's "Headbanger's Ball" in 1993.
The third disc contains two fiery live recordings from the summer of 1993, the first an unreleased performance at Castaic Lake Natural Amphitheater near Los Angeles and the second from the Reading Festival, making its U.S. debut here. These high-energy shows feature performances of all but two songs from "Core" as well as an early live version of "Lounge Fly", a song the band has just written a month earlier that would appear the following year on the band's second album, "Purple".
The band's iconic appearance on "MTV Unplugged", recorded in November 1993, gets its first official release on the final CD in the set. This would be their last performance in support of "Core" and includes reworked, acoustic versions of "Wicked Garden" and "Sex Type Thing", the debut performance of "Big Empty", which would later appear on "Purple", and a cover of David Bowie's "Andy Warhol".
"Core: Super Deluxe Edition" also features the original album pressed on vinyl, and a DVD that presents a 5.1 Surround Sound Mix of "Core" together will all four of the videos made for the album: "Sex Type Thing", "Plush", "Wicked Garden" and "Creep".
"Core: Super Deluxe Edition" track listing:
Disc One: Original Album Remastered
01. Dead & Bloated
02. Sex Type Thing
03. Wicked Garden
04. No Memory
05. Sin
06. Naked Sunday
07. Creep
08. Piece Of Pie
09. Plush
10. Wet My Bed
11. Crackerman
12. Where The River Goes
Disc Two: Demos And B-sides
01. Only Dying – Demo *
02. Wicked Garden – Demo *
03. Naked Sunday – Demo *
04. Where The River Goes – Demo *
05. Dead & Bloated – Demo *
06. Sex Type Thing – Demo *
07. Sin – Demo *
08. Creep – Demo *
09. Plush – Demo *
10. Sex Type Thing – Swing Type Version
11. Plush – Acoustic Type Version
12. Creep – New Album Version
13. Plush – Acoustic from MTV Headbanger's Ball (Take 1)
Disc Three: Live 1993
Live At Castaic Lake Natural Amphitheater (July 2, 1993)
01. Crackerman *
02. Wicked Garden *
03. No Memory *
04. Sin *
05. Plush *
06. Where The River Goes *
07. Sex Type Thing *
08. Wet My Bed *
09. Naked Sunday *
Live At The Reading Festival (August 27, 1993)
10. Wicked Garden
11. No Memory *
12. Sin
13. Lounge Fly *
14. Dead & Bloated
15. Sex Type Thing
16. Naked Sunday*
Disc Four: MTV Unplugged (November 17, 1993)
01. Crackerman
02. Creep *
03. Andy Warhol
04. Plush *
05. Big Empty *
06. Wicked Garden *
07. Sex Type Thing *
Disc Five: (DVD) Original Album 5.1 Mix, 24/96 Stereo Audio, And Music Videos
* Previously Unreleased
Bonus "Plush" 7-inch Included with www.stonetemplepilots.com preorder, limited edition of 1,000 units
Side 1
01. Plush (Edit)
Side 2
01. Sin
Follow Me On Social Media! Do Eeettttt....