So you're showing all your buddies your new iWatch that won't work properly because you have tattoos on your wrist. Guess what's there to give you the time with a huge dose of badd assery??? The MOTÖRHEAD Warpig Watch.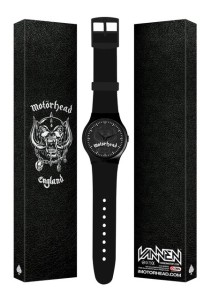 The MOTÖRHEAD Warpig (Grey) Vannen watch is now available. This watch features a classic matte black finish, with index markings and the MOTÖRHEAD logo printed in white on the inside surface of the crystal.
The durable stainless steel back casing of the watch is also engraved with "Born To Lose / Live To Run", and a spade is engraved on the watch's crown.
Each of special edition "Warpig" (Grey) Watch come packaged in a custom embossed sleeve with an exclusive MOTÖRHEAD sticker.
Water resistant up to 10 meters / 30 feet. Comes with a limited 90-day warranty.
Specs:
* Wrist: Med-Large. 8.5 inches Max
* Crystal: Plastic, Flat w/ White Art
* Movement: 3-Hand Japanese Quartz
* Buckle & Loop: Plastic, Matte Black
* Dial: 34.8mm, Matte Black w/ Dark Grey Art
* Hands: Metal, Glossy Black
* Case: 43mm, Plastic, Matte Black
* Straps: 22mm Wide, Plastic, Matte Black
And this sucker is only gonna pull $59.99 out cha wallet. Unlike yer chick. This watch is gonna look back up at you no matter what like "yer a bad mother trucker" So don't waste another minute trying to make your smart watch do something it can never do. Look bad ass!! Get over HERE and pick yourself up one!!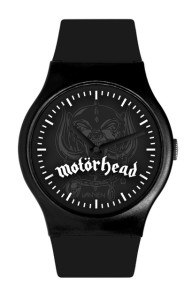 Follow Me On Social Media! Do Eeettttt....