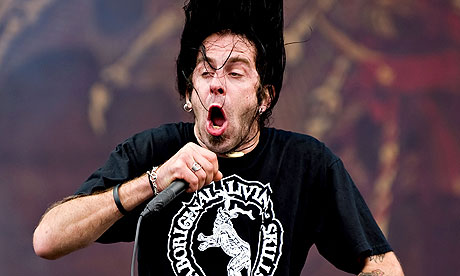 Unless you've been living in a closet you've probably heard about the Randy Blythe arrest and detention in Prague for manslaughter. He was arrested for an incident that had taken place a few years prior in the death of a fan that had rushed the stage and was pushed back into the crowd. You know, pretty much like every metal show you see everywhere. Only this dude hit is head and died.
In this interview done by MetalInsider.net Chris Adler talks about how the arrest went down. Pretty much how you would think only with ski masks, body armor and such. Below is a segment from the MetalInsider article.
So we're getting off the plane along with everyone else, and they're pulling us aside one at a time. At first I didn't think anything of it, and then they pulled me aside and I still didn't think anything of it. Then I notice that it's not random and it's just the band and the crew. I still wasn't thinking anything of it – since we all check in together, maybe somebody forgot something that they shouldn't have put in their bag on an airplane and they're going to want to talk to us all about it. Then once they had us all corralled together, the 12 of us, they opened a door behind us to another room, and I assumed it was just to begin the process of telling us what the deal was or what the fine was for carrying liquor or a joint in a bag or something.
So we walk in this room and there's ten guys that look like they're ready for the apocalypse. Scary, scary dudes with black ski masks on, huge machine guns, full body armor, guns strapped to thighs, calves and chests, and mace out. This is where it gets very scary, and we realized it was something far more than what someone had in their bag. The plainclothes officer explained to us in broken English that they were investigating a homicide. Even when they said that, of course it became much more serious than someone pissing in public, but still, we'd been flying around the world for the last 5 ½ weeks, maybe something happened at one of these festivals and they're talking to all of the bands, or someone we know might be in trouble – we never thought they were investigating us. Then they hand us all a piece of paper that explains in broken English about the situation that happened in 2010. They said they needed us all for interrogation, but they're taking Randy with us now. That's when it hit us. No one had heard anything about this, it was very very scary to be involved in, and we realized with the SWAT team standing around us that there was nothing we could do about it.
Well how bout that to crap on your tour!!! Read the full metalinsider.net article HERE
Follow Me On Social Media! Do Eeettttt....